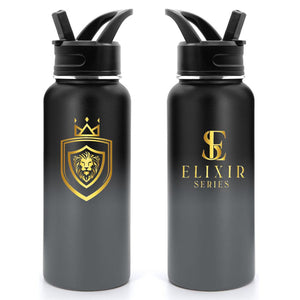 Jump start your day with the Elixir Series Water Bottle! This stainless steel bottle is the perfect way to keep your water cold (or warm!) and maintain an optimal hydrogen level if using your Elixir Series H2 to produce water. Rejoice as your thirst is quenched like never before!
Crafted from high-quality, food-grade stainless steel, this durable water bottle is designed to last for years to come. With its sleek and stylish design, this water bottle is perfect for use at home, in the office, or on the go. It's double-walled construction keeps your drinks cold for up to 24 hours and hot for up to 12 hours, making it ideal for all seasons.
The bottle features a leak-proof ensuring that your bag and belongings remain dry and safe. The wide-mouth opening allows for easy filling, cleaning, and drinking, while the secure screw-on lid ensures that your drink stays put.
This water bottle is not only convenient but also eco-friendly, as it reduces the need for disposable plastic bottles that harm the environment. It's also BPA-free, ensuring that you and your family stay safe while drinking from it.
With a generous capacity of 750 mL this stainless steel water bottle is perfect for staying hydrated throughout the day, whether you're working out, commuting, or simply running errands.
Invest in our stainless steel water bottle today and enjoy the convenience of staying hydrated on the go!